Clinical Infrared Thermometer Non-Contact Forehead Digital - 800120
00002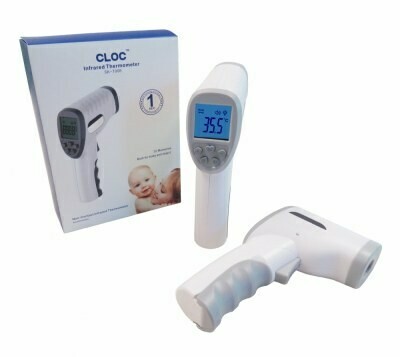 Environmental Quality Meters
Price :
88500
NGN
In stock
Simply point the non-contact IR (infrared) thermometer at the subject's forehead from a distance of 2" to 6", pull the trigger and, within 1 second, obtain immediate, highly accurate readings of human body temperature. Automatically adjusts for the difference between the surface temperature of the forehead and internal body temperature of the subject, for highly accurate reading within +/- 0.3°C.

Also features an audible max/min alarm, backlit display, 32 memories, and auto-power-off. Comes ready to use with one 9V battery.
In Stock in the USA
Forehead Non-Contact
Ships the Next Day
FDA Registered
1 Year Warranty, CE, RoHS
*Certification Option
N.I.S.T. traceable Certificate of Compliance available at additional cost (Select option above).