Randox | ALP | Reagent
00118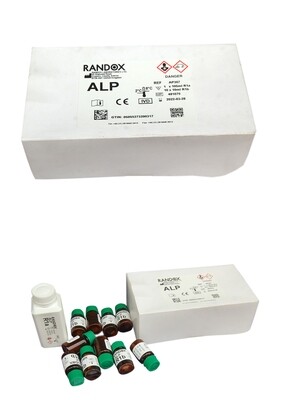 Medical Reagents
Price :
15900
NGN
In stock
ALP
Alkaline Phosphatase
CAT NO.
AP 307 Rla Buffer 1 x 105ml
10 x 10 ml. Rlb Substrate 10 x 10ml
INTENDED USE
For the quantitative in vitro determination of Alkaline Phosphatase (ALP) in serum and plasma. This product is suitable for manual use and on RX Monza analyser.
REAGENT COMPOSITION
Content. Concentrations in the test
Rla Buffer
Diethanolamine buffer. l mmol/l. pH 9.8
MgCl2 0.5mmol/l
Rlb. Substrate
p-nitrophenylphosphat 10 mmol/l