Randox Cholesterol Reagent
00116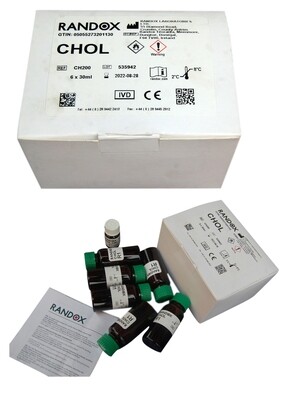 Medical Reagents
Price :
23500
NGN
In stock
CHOLESTEROL (CHOL)
CAT NO.
CH 200. Rl. Reagent. 6x30ml
6x30ml. Cal Standard. 1x5.5 ml
INTENDED USE
For the quantitative in vitro determination of Cholesterol
in serum and plasma. This product is suitable for manual use and on the Rx monza analyser
.
CLINICAL SIGNIFICANCE
Cholesterol measurement are used in the diagnosis and treatment of lipid lipoprotein metabolism disorder. Lipids play an important role in the body,they serve as hormone or hormones precursors,aid in digestion, provide energy, storage and metabolic fuels, act as functional and structural components in bioembranes and form insulation to allow nerve conduction and prevent heat loss.

In clinical chemistry,over the last decades however, lipids have become associated with lipoprotein metabolism and atherosclerosis.
REAGENT COMPOSITION
Contents. Composition in the test
Rl. Reagent
Pipes Buffer. 80 mmol/l pH 6.8
A-Aminoantipyrine. 0.25 mmol/l
Phenol. 6 mmol/l
Peroxide. ≥ 0.5 u/ml