Randox | HDL | Reagent
00120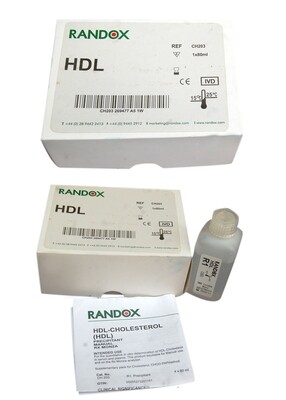 Medical Reagents
TRIGLYCERIDES (TRIGS)
CAT NO.

TR 210 RIa Buffer. 1x100ml
6x15 ml. RIb Enzymes Reagent. 6x15ml
CAL Standard. 1x55ml
INTENDED USE
For the quantitative in vitro determination of Triglycerides in serum and Plasma .This product is suitable for manual use and on the Rx Monza analyser
CLINICAL SIGNIFICANCE
Triglyceride measurements are used in the diagnosis and treatment of disease in involving lipids metabolism and various endocrine disorder e.g diabetes mellitus, nephrosis and liver instruction.
REAGENT COMPOSITION
Contents. Concentration in The Test
RIa. Buffer
pipes Buffet. 40 mmol pH 7.6
4-choloro-phenol. 55mmol/l
magnesium-ion. I7.51mmol/l
RIb. Enzyme reagent
mmol/l
4-aminophenanazone 05 mmol/l
ATP 1.Ommml/l
Lipases.
≥
150 U/ml
Glycerol - kinase. .
≥
0.4 U/ml
Glycerol-3- phosphate Oxide
≥
15 U/ml
Peroxidase
≥
05 U/ml