Randox Triglycerides Reagent
00124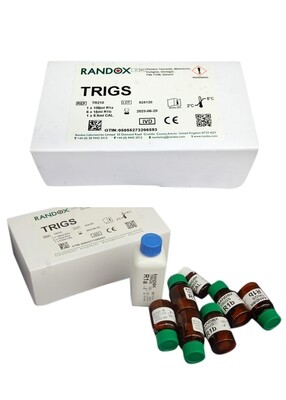 Medical Reagents
Price :
23500
NGN
In stock
URIC ACID
CAT NO.
UA 230 6 x15ml
R1a Buffer 1 x 100ml
R1b Enzyme Reagent 6 x 15 ml
CAL. Standard 1 x 5.5


INTENDED USE
For the quantitative in vitro determination of Uric Acid in serum, plasma and urine. This product is suitable for manual use and on the Rx Monza analyser.


REAGENT COMPOSITION
Contents Concentration in the test
R1a. Buffer
Hepes buffer. 50mmol/l, pH7.0
3,5-Dichloro-2-hydroxy-
benzenesulfonic Acid 4mmol/l
R1b. Enzyme Reagent
4-Aminophenazone 0.25 mmol/l

Peroxidase ≥ 1000 u/l
Uricase ≥ 200 u/l
CAL Standard 1 x 5.5